Published: Cher | Categories: Actors , Video , News |
The film "Dangerous nonsense"
Production: Film Studio them. Gorky, 1983
Director: Viktor Volkov
Duration: 10 minutes
About the film: first, the small role of Natalia Guseva (Murashkevich) in short films commissioned by the SAI.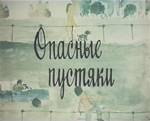 One day in 1983 in the class, where she studied Natasha came from the director of film studio. Gorky. He asked the teacher to let the studio girls who are well-read poetry. As Natasha was one of the best students, it is quite natural that the choice fell on her. As a result, the girl starred in a 10-minute short film "Dangerous nonsense" commissioned by the SAI.
On that tape dubbing I noticed her Oganezovich director Pavel Arsenov, sought the lead role of heroine Alice Selezneva in the children's fantasy film "The Guest from the Future."
The film has long been considered irretrievably lost. But the incredible efforts failed to find an instance of a single archive. For this we want to thank Alexei Andreev.
Today we offer you to see the trial version of the film.
Size: 52,4 Mb
Format: DiVX 5.0.5, 610 kbps
Video: 352 × 256