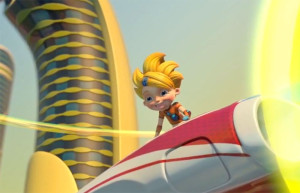 He was released a television cartoon series animated film company "Basileus" and the group of companies "Ricky" removable with the support of cinema. The first series of shows on the channel STS 16 November 2013, on the eve of minus pyatidesyatisemiletiya its main character - Alice Selezneva. Subsequent series are shown on the same channel on Saturdays at 10:00. In addition, selected episodes available line-on.
The creators of the cartoon have positioned it as a movie based on the story of K. Bulychev "Alice's Journey." In fact, the show is an independent original work apocryphal alisiany addressed to the youngest viewers. Promotional campaign includes the production and sale of toys - cartoon characters, the release of colorful books with text versions of the adventures of his characters, in the future - the production and sale of computer games based on the cartoon.
Target audience: children from 0 to 12 years.
Read completely "
Categories: Other Worlds, News | No Comments