Published: Matfil | Categories: Actors, News, Prose |
Once a reservation. I hesitated for a long time, something to write about it. Maybe because of the complex and obscure fate of this man. Or feeling the responsibility to his memory. Until now, all the circumstances of the life and death of Alexei Fomkina us through unknown and probably will not ever know. This small article is primarily a tribute to the man who for us, the boys' 80s, was on the screen as a close friend, a classmate, a guy from our yard. Dedicated to the bright memory ... .Not mistaken if I say that such screen images that are close to reality, in the children's cinema has ever had.
Maybe someone does not agree with this statement, it is their right. I just express my personal opinion. Religious kinogeroi 80s, such as Syroezhkin or Petrov Vasechkin, in my opinion, compared to Kolya Gerasimov looked a little corny and improbable, and sometimes willfully and openly. But this statement as I did not detract from the merits "Electronics" and "Petrov and Vasechkina." Forgive me, ardent fans of these films. But looking "guests" every boy or girl might say, "I know him! The same student in our class! He lives in my backyard, porch and so on. "
Paul Oganezovich saw it, nothing outwardly remarkable lad, with protruding ears and a little dreamy look callous, that as critics would say, people's image, which was closest to the viewer. And not in bottles from under yogurt thing, not "pie", where he had previously filmed. Just thanks to the work of Alexey in "guests", all very ordinary boy could feel his involvement in the exciting adventures that take place on the screen. It is very easy to imagine yourself in his place, saving mielofon and fight the space pirates. Do not downplay the work of a huge number of people who worked on the film and played in it, say, Alex Fomkin did it the way we love it.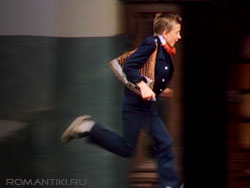 Finished filming, was the premiere of the show "guests" on television. The boys were crazy about the main character. The girls imitated her. Fame and popular adoration as it passed by Alexis. Yes, perhaps it is he was not absolutely necessary. He returned to his own world, which is different from the screen. But he always remained, as it were, the soul of the "guests". It's like as a person. The soul is invisibly present in it, but take away it, and it will cease to be human. Life, sometimes, sometimes, unfair and cruel. Many talented people fall under the millstones of everyday life and die.
Not escaped this sad fate of Alexei. Now, the story of Alexei Fomkina, has acquired a lot of rumors and legends. Implausible, and sometimes just fantastic. Fans of "fried" facts can be quite satisfied. But this is not important. The main thing, I think, just find his grave, to worship her, to lay flowers and say, "Thank you Alyosha! Let the earth you rest in peace. " I think you will agree with me.
You can look at the site of the actor